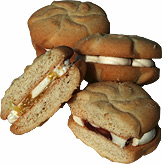 I've been trudging through some fairly dismal biscuits recently. Strictly I should have reviewed them and shared their bleak and un-stimulating selves with you, but really where's the fun in that? So two packs of McVities Organic Yumbles, which were Digestives and Hobnobs by another name, only much smaller and more expensive and in need of more packaging to make them seem bigger, passed by without comment. These were followed by a pack of Burton's Bingo acquired in the often left-field Morrisons biscuit aisle. They were a first and also a last for Wifey and I. A small and troubled dollop of 'chocolate' recumbent on a small slab of gritty biscuit which was more of an autopsy to find out what killed it than a snack. Sad too, as Nanny Nicey has lots of excellent Bingo stories, like the time a fight broke out and they had to get South Wales Police in to break it up. So like a ray of sunlight Fox's new range of Whipped Creams have arrived at NCOTAASD HQ to restore our faith in biscuit innovation.

Now its not going unnoticed that Fox's are using a state of the art computer generated Italian American Gangster Armchair bound Panda to extoll the virtues of their biscuits. Since Pixar made Monsters Inc and developed all the gubbins for doing fur and hair inside computers such things have become possible. Hence all the movies involving hair and fur over the last the last seven years and of course adverts too. I have to say like or loath him, the panda drinks milk and can't say biscuit properly, he does look very expensive. Burton's on the other hand have gone for a large rubbery looking glove puppet of a Maryland cookie sat on wall telling what I assume are jokes. McVities have decided to bring us little domestic tableaus from a family of CGI wheat ears, who individually don't look as expensive as Vinny the Panda, but live in a photo realistic wheat field as opposed to his minimalist white room. As one of the wheat ears is clearly Vernon Kaye we can be conveniently distracted from all the problems of how one wheat ear can apparently be the father of another adjacent one. As a parting shot to all of this Vinny does partake of a Chocolate Viennese finger, which being the product shot probably required huge attention to detail to get it looking right.

So down to business. Fox's tell me their new biscuits are aimed at the adult indulgent but "we've had enough of chocolate" sector. Yes the oh so obvious chocolate can actually be off putting to many who are after a something a bit fancy. Those who dream of the ultimate custard cream rather than a bar of chocolate passing itself off as a biscuit are the target audience. The pack does the work of positioning these as adult items. Two biscuits indulge in a bit of mild bondage with a black gauze ribbon the end of which caresses a third voyeur which has been opened to reveal its jam and cream. Just in case you think I'm over doing it a bit the strap lines on the pack are "Buttery shortcake biscuit caressed with cream and sinfully strawberry conserve. Naughty!" the lemon ones have "lustfully lemon curd" in them. I shall touch base with NCOTAASD chaplain The Rev Stephen Day to see if one could safely serve these to the Vicar with out getting into trouble.

The biscuits are already in ASDA and should be arriving at the other big four supermarkets through out July, in order Morrisons, Tescos and finally Sainsburys. Eight biscuits to a pack and in genuine need of some support the box contains a cellophane wrapped insert tray with four stacks of two biscuits. At 26mm high these are some of the tallest biscuits we have seen and definitely evoke comparison with a Mr Kipling Viennese Whirl. The biscuit does contain butter and some cornflour which makes for a very soft and crumbly texture with good flavour. The whipped cream filling (note the whipped has a little red heart to dot its i on the pack), is placed in six blobs towards the sides of the hexagonal biscuit. This creates a well in the center to hold the sinful strawberry jam or lustful lemon curd, either of which accounts for 9% of the biscuit. The occasional gap between the cream blobs lets some jam seep out ever so slightly. Unlike most biscuit jam Fox's have elected to use the genuine article, with the a 45% fruit content in their strawberry jam and no need to resort to colours or flavours. The lemon curd has a few odds and ends to make it suitable for biscuit use such as pectin and uses natural flavourings and colour to get the lemon effect.

With so much on offer it's perfectly possible to enjoy these biscuits individually, not a bad plan as they're packing 141 calories each. Personally I couldn't really imagine wanting more than two in a sitting as all that indulgence can be a bit much. In this case I would see that as a bonus, treat yourself but don't get hopelessly out of control and wind up regretting the whole thing. Yes the adult themes continue as we move from lust and sin to guilt and the mature use of self restraint.