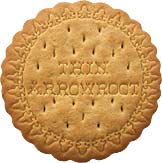 Yet again this week we have elected to review another dry tasteless dull excuse for a biscuit, the Thin Arrowroot.

Baked by Crawfords the 'B' team of the United Biscuits empire with McVities being their 'A' team. However, Crawfords do produce a great many reference standard biscuits, particularly the Custard Cream and the Bourbon, and we frequently see Crawfords biscuits at the very sharp end of the biscuit world such as those little packs that you get in hotels or railway cafés. With the Thin Arrowroot Crawfords set the standard.

So what are the burning issues with a thin Arrowroot? Well, why are they thin, and what an earth is Arrowroot? Well the answer to the first lies in the second. Arrowroot, is a starchy powder obtained from the rhizomes of the Arrowroot plant, typically grown in places like the West Indies. Typical uses for Arrowroot are to make sort of gloopy fruit slop for desserts and the like, as it works a bit like cornflour. Adding Arrowroot to biscuits, seems to work a bit like adding cement or perhaps plaster of paris. Thin Arrowroots contain 2 percent arrowroot and this appears to be enough to make them a bit like a really hard dry and generally hostile Rich Tea.

In fact we were mostly impressed with the structural properties of the biscuit rather than what it tasted like. For instance the resonant frequencies possesed by the biscuit, produced a higher note when dropped in comparison to a similar sized Rich Tea. Yes, when faced with a biscuit like the thin Arrowroot, one is forced to consider what sound it makes in a vain attempt to find something nice to say about it. It therefore seems like that such a thing as a 'Thick Arrowroot' whilst technically feasible would be too much for the average consumers dental facilities, although they would probably make load bearing walls.

As result of this high level of structural integrity, the writing on top of the biscuits is fantastically detailed, as if engraved onto metal. Unfortunately they taste pretty awful.