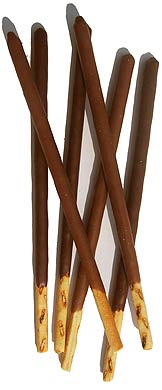 Well, well, well. What a hectic week its been so much so that our biscuit of the week is long over due. Which is very naughty when you consider that the Wife and I trekked all the way to France in a covert mission to obtain them. They are none other than the fabled and much sort after 'sticky', as in 'like a stick' not 'adhesive', Mikado. See they do exist and there is the picture to prove it! As it turned out it was leading French biscuit outfit Lu, who were making them all along. We picked up a packet of the Dark Chocolate and the 'Nouveau' Milk Chocolate.

Looking like nano-bread sticks that have been dipped in chocolate, or over dressed sparklers, the Mikado is an extremely dainty little biscuit. I suspect that it is actually a fairly near relative to the Pretzel, given its diameter. In fact if you unrolled a Pretzel knocked off those big salt grains and dipped it in chocolate you would get something almost identical. You would, of course, also have amazing powers of biscuit straightening, which I hope you would use to fight crime and injustice in the world, although the opportunity would probably never arise. Also I do know you can get chocolate covered Pretzels.

So what to do with the Mikado. Well being so closely aligned with the Pretzel you aren't going to able to substitute them for a meal, no matter how easily they are consumed. Given its appearance and mass its probably not going to be the sort of thing to give to your builder with his mug of tea (3 sugars please). I would consider building large load bearing structures from them based around tetrahedra by fusing the chocolate ends together, I expect. Or maybe you could poke them into ice-cream, I don't know thats just a guess.

As for the obvious question I know you're all wondering, 'Who would win in a fight between a Jacobs Mikado and a Lu Mikado?'. Well my money would be on the Jacobs, although the Lu could probably inflict grievous stick shaped holes in the jam and marshmallow of the Jacobs.