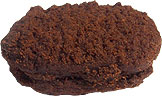 Well we have just finished off this weeks box of review biscuits, and very nice they were too. All the way from the Republic of South Africa, came a 200g box of Bakers Romany Creams. The Bakers logo features a little man, 'The Bakersman', with receding hair and a pencil behind his right ear, adorned in an apron. He says on the pack 'I've been there, on all those packs of Bakers Biscuits you know and love, through everyone's childhood, a part of all the best memories'. Sentimental old chap this Baker. He also appears to sponsor Mini Cricket according to the pack.

Describing themselves as crunchy choc coconut biscuits, the Romany Cream is a sandwich biscuit with a filling of smooth chocolate cream. Now as you may know I'm not a fan of coconut in biscuits, with the 'Nice' biscuit representing perhaps the most loathsome example. However, after the recent Anzac review maybe I'm mellowing in my old age. The texture of the Romany was truly unique, the closest thing I could compare to would be a Foxs Viennese finger with a slight aldenté edge afforded by the finely divided coconut. The back of the pack displayed a recipe for chocolate cream pie, instructing one to crush the whole pack and to combine with butter to make a biscuit base. I have no doubt that this would produce a killer pudding. Despite majoring on the chocolate theme the overall chocolate taste was low key with the coconut easily holding its own. When put up against a nice cup of tea the Romany Creams started to disappear at quite a rate.

The biscuits themselves are quite small and I would think it not indecent to consume them in two mouthfuls. The pristine example of a Romany Cream on the pack front did not prepare me for the appearance of the contents. Rattling around in a bag in side the box the meant that the chocolate cream filling was quite hard to spot being covered as it was in a layer of biscuit crumbs. Now I don't mind this for a minute as it means less packing. In fact I would think it would be quite good sport to eat boxes of the things trying to find one that looked the same as the one on the box.

Ok, now to the nitty gritty, why are they called Romany Creams? Sorry I really don't know. What an earth the particular association between the Romany people and crunchy choc coconut biscuit is I can't even begin to guess at. Why they are so typically South African? Don't know either. Can you get them outside of South Africa. Don't know. Yes I know this is not much of an exhaustive reference of the Romany Cream,but as I said we enjoyed the biscuits.

Thanks to Nick Alliwell for getting us the Romany Creams to us.