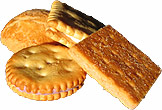 About two years back we took a look at some biscuits from China, which turned out to be really quite nasty. This did a fairly good job of stemming any biscuit curiosity that I might have pertaining to that part of the globe. However back at the start of November, long time NCOTAASD reader Monika Duhig in Sydney got in touch to offer us some Korean Purple Yam Biscuits from the Spring Wind Food store. These sounded too bizarre to miss, so naturally we jumped at the chance to try more iffy oriental biscuits. A woman on a mission, Monika then treated us to some other scary biscuits, including Cantaloup sandwiches, Tomato layers and Nucleolus cakes. Intuitively sensing that this was going to be more of an ordeal than a pleasure I decided that one big multi-review was the way forward.

The purple Yam Sandwich crackers turned out to be Vietnamese in the end, made by Kinh Do, although it's hard to be sure of anything really. The usual gamut of biscuit tasting metaphors are made largely redundant by the 'tastes' on offer here. The two crackers are somewhat like a desalted non savoury Ritz cracker, but the purple stuff in between, which does contain yam powder, was more of a challenge. There was a hint of perfume here, but not your Chanel No5, more like the stuff they mix with liquid soap for the dispensers in a Motorway services toilet. I'm sure there are a great many things that could be made that would taste worse than these, however, Purple Yam Crackers are probably a once in a lifetime sort of biscuit. That is to say you don't need to try them more than once in your lifetime.

So on to the Cantaloup Sandwiches, and back to China. Again it's hard to be sure but these could have been made by Yingdali, or maybe D&A. Much the same idea as Purple Yam biscuits, only square crackers this time, no purple, no yam and melon flavoured soap. Good to see that the Chinese decided that Monosodium Glutamate should also be given a chance to weave its magic as a taste enhancer in these biscuits. Not so good as it appears to have had nothing to enhance. Clearly you are not meant to eat many of these in one go, as they come wrapped in little two biscuit sachets. Perhaps there are sound medical reasons for this. The melon flavour is probably the only possible conclusion that one could arrive at when tasting these, so let's at least recognise a degree of accomplishment in this regard. Quite the best thing about the biscuits was the box, which bears a picture I assume is attempting to evoke a melon biscuit eating ambiance. The vital elements of this appear to be a distant Ginko tree, a wicker basket of wheat ears and croissants, some milk in a jug, a few blue flowers and a large glazed ceramic jar of facial soap. A small cut away image shows some hacked open melons. I'm pleased that the soap has put in an appearance up as I feel it has been with us from the start. At an outside guess I think maybe you are supposed to have these for breakfast, no doubt a terrific plan for anybody wanting to lose weight and who would benefit from feeling queazy and off their food well into the afternoon.

Next to the 'Tomato layer' things, which were easily the most unappetising members of the foursome. Again made in China by Dong Gaun Kam Tai, you lucky folks in Canada, the US and Australia should be able to get hold of these. Once more a two biscuit sachet system protects the casual eater from possibly eating three of these in one go. Anybody who is having trouble getting started as a bulimic might want to consider these as an after dinner treat.

Finally we come to the Nucleolus Cakes, a product of the Macao RongHau Cake factory. The small yellow domed shaped things within the box were actually a welcome relief after the Tomato Layers, however, I don't think I could be persuaded to call them nice. Maybe at gun point. The pack which is mostly red, perhaps for danger, shows a small cluster of Nucleolus cakes glowing in the corner. I haven't turned the lights off to see if they glow in the dark as the name suggests. The pack again is much better that the contents, and has terrific stuff on it such as "Directions: Open the package andd eating". Yes, that's 'andd'. Ingredients are given as "Wheat flour, sugar, vegetame oil, peanut, egg, qishuoil, penshonggji, lemonyellow, butter". If anybody knows what qishuoil or penshonggji are please let me know as I've now eaten some of it.

So by my reckoning that's my south east asian biscuit curiosity sated until 2013, I may also have an attack of the 'Spring wind' soon despite it only being January.