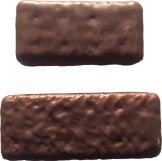 We are kicking off 2003 with a special head to head biscuit review and one that has generated unprecedented levels of tension and excitement. The UK and Austrialia have a common cultural heritage and are for ever engaging in friendly rivalry in such areas as sport, music and blokes that taunt crocodiles, (I'm sure we could find some lads who would do that, Bez from the Happy Mondays for instance). However, there is one great area of cultural achievement in which both proud nations haven't tackled each other until now. Biscuits.

Travellers returning from the antipodes have spoken of a biscuit, the Tim Tam, remarkably similar to the Penguin and yet somehow different. Australian visitors, and cultural ambassadors to our shores have also poured scorn upon our humble Penguin, whilst performing questionable and lurid tea drinking acts with it. As we are all aware, the average Australian is a modest type, not in the habit of making overblown claims. However, they all seem confident in one thing, that the Tim Tam is a work of perfection, and not to have eaten one, is not to have truly lived. We were obviously quite keen to get hold of some. Well at long last we have a pack, a gift from the lovely Michelle from Perth, also known as Freshlegs (Michelle that is not Perth).

Ok Nicey, enough preamble, get on with it. Smaller than the Penguin proportionally lighter as well the Tim Tam feels unfamiliar. Biting in to it we were met by a very light biscuit, the Wife is reminded of the Honeycomb center of a Cadbury's Crunchie. Its certainly doesn't have the gritty texture of the Penguin. The whole colour of the Tim Tam is a warm bronze to the Penguins almost slatey grey chocolate and biscuit. And now to the flavour, well we were very impressed. The Tim Tam has a buttery richness to its chocolate and chocolate cream, I was put in mind of Galaxy chocolate.

So the verdict? Well the Tim Tam is a classy little biscuit, it tastes great and its insubstantial nature affords the sucking of tea and coffee through it by Australian songstresses, the infamous Tim Tam Slam. However, the mighty Penguin offers a more of a satisfying mouthful and its greater bulk elevates it from treat to a snack. We would suggest that there is something to learn from both biscuits and if haven't tried one or the other then seek it out. If you've tried neither then you're probably American and there we shall leave it.