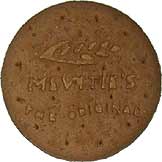 The undisputed king of the large diameter biscuits, this is truly an iconic biscuit.

Found in two main varieties, SweetMeal and WholeMeal, the digestive biscuit sets a standard for the whole biscuit world. Its satisfying nature make the biscuit eater consider how many to have at a time 1,2 or maybe 3. It's versatile providing the base for many more elaborate biscuits, (see Chocolate Caramels), and even chocolate covered biscuit bars such as the Breakaway, or the base for Cheesecakes.

Once again the biscuit shown here is from McVities, and its a WholeMeal. Other people attempt to make digestives but they taste like cardboard compared to the mighty McVities.

I have seen girls slip a sheet of kitchen roll in the bottom of their biscuit tins, when opening a new packet of digestives, and although this is completely unnecessary, it is strangely alluring.