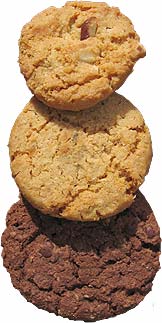 Spring has finally sprung here at NCOTAASD HQ. The birds who have taken up permanent residence within about four wing beats of the bird feeder have all gone for a nice fly, to see what else is happening locally. The crocus and daffodils are all in full bloom, and Wifey is out scrutinising the ladybirds making sure that they are all doing what they should be doing and that there are no nasty interlopers. So perfect conditions for biscuit reviewing in the garden.

As promised we are taking a look at some fair trade biscuits this week, and because they are all lovely and ethical we'll overlook that they are calling themselves cookies. The biscuits are produced in the UK for Traidcraft and may be bought through many outlets including their own webstore, and their site has a comprehensive page on how you can buy their products.

So lets start with the smallest biscuit first the Organic Brazil Nut Cookies. They are made with 20% fairtrade organic sugar and 10% organic Brazil nuts. The nuts are collected by some nice Bolivian people who tend to have about 30 or 40 Brazil nut trees per family in their local bit of the Amazon rain forest which they harvest. Apparently Brazil nuts are full of some very useful stuff indeed, and eating them seems to be a very good plan. No doubt the beneficial effects of their alpha-linolenic acid, which converts to omega-3 fatty acids in the body is completely undone by embedding them in a tasty biscuit. Still at least those nice people in Bolivia are benefitting from us ploughing through a pack of these. Essentially a sweet oaty biscuit they were right up my street. Texture wise I found them a little too open and soft, but that is all as it should be for something that is performing the function of a very well risen cookie.

The stem ginger cookies managed to add another 50g to their pack taking them up to 200g, and accordingly are that bit bigger than their nutty chums. The biscuits once again feature 20% fairtrade sugar and 10% fairtrade crystalised ginger. The Ginger is present in some fairly large lumps, which actually give you some thing to chew on. The Ginger is sourced from small growers in Kerala Southern India, via a modern plant that offers them a fair and guaranteed price. The biscuits are fairly similar in texture to their nutty friends, but the lack of oats in this recipe means that if anything the ginger lumps are even more easily broken free of the biscuity coating in the mouth.

The final biscuit is a double chocolate chip cookie, meaning the the chocolate is present twice, once in the chips and again in the biscuit dough in the form of cocoa powder. The 20% fairtrade chocolate used comes from the Dominican Republic, whose cocoa crop was damaged in the 1998 Hurricane George. The local growers are starting to get back on their feet, and Traidcraft pays them a premium price for their produce. The chocoholics will be pleased to hear that these were the biggest of the three biscuits we looked at, and I also found them to be the crunchiest. The overall flavour was probably more influenced by the 5% cocoa in the biscuit than the 15% in the chips, but this should be of little concern to those who will be buying this biscuit on moral grounds or indeed pure "shovel it in, it's got chocolate in it" grounds.