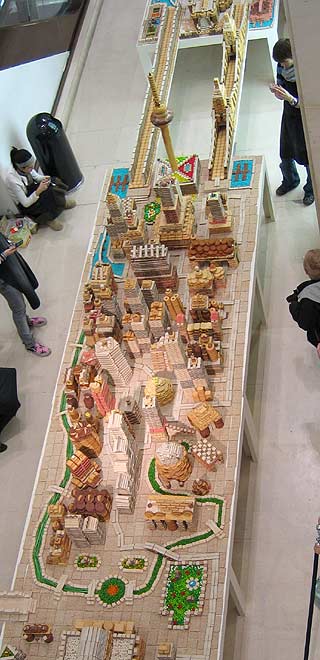 After a longer than usual journey I got there about 2pm, which you'd think would be a bad move, as I hadn't had any lunch. Surprisingly though, the sight of thousands of biscuits piled up did nothing to make me feel peckish. I could say it was the lack of tea on offer to go with the biscuits, but that would be a bit of a lie as it is cunningly based beside Selfridges basement tea area. No, I think it was down to the smell of faintly going off biscuits. You know the one, when you go to someone's house and they get out a packet of biscuits that has clearly not seen the light of day for several months. That said, it still smelt better than London's underground.
But on to the Biscuit City. According to the builders there was no real plan. Chinese Artist Song Dong designed a few of the big buildings, but most of it was down to the builders to make up as they went along. I felt this was a bit of a shame, as while the buildings were great, it would've been nice to see some of London's landmarks re-created. Instead, it had the obvious things, like a random football stadium and a few suspension bridges. I'd liked to have seen the Houses of Parliament or Tower Bridge. Perhaps even Buckingham Palace made out of custard creams using their baroque markings. It did make me think "wahey, a city made out of biscuits", and to be fair, it is the best city made out of biscuits that I've ever seen, but I don't think I'll remember it like I remember the model village at Babbacombe in Devon I saw when I was about 8 years old.
All manner of biscuits and bright jelly bean type sweets have been used in the construction, but wafers seem to be the main building blocks of choice. Anything else was mainly just for decoration. I did see a fair few whole garibaldi's, but I'd have liked to have seen more use of them. I felt they had missed out on the opportunity of breaking them up and using them in kit form to build something truely great, although I can't think what would do them justice. McVities, one of the sponsers, had a fair range out on show including Gingernuts, Shortcakes, Digestives, Fruit shortcakes, Pink Wafers, Custard Creams and the often hard to find Crawfords Fig Roll. Many of the wafers were made by Loacker, an Italian company who seem to specialise in them. These seemed to have been chosen for their length as much as anything, about twice that of a pink wafer, finding their way into various bridges and arches. The Pink wafers had been used sparingly, probably they're too garish even for use as building blocks.
Ryvita crispbreads got to join in the fun, though mostly to be used as a utiliterian floor, rather than lofty skyscrapers. I was a bit miffed that there weren't any Jaffa Cakes, but maybe that's because they're a cake, and this was a biscuit thing. And they're a bit rounded on top, so probably tricky to build with. Despite it being a Chinese design I didn't spot any Chinese biscuits. Perhaps they were worried they would scare people away. I had a quick chat with one of the builders. She assured me that despite working for days on the job she had not been put off biscuits, and when the job was over she would continue to eat them. Although not too many as that would make you sick. Well quite. I would also like to reassure anyone who is thinking of going that all the biscuit builders were wearing gloves, but not hard hats or flourescent jackets.
The grand eating is at 16.00 tomorrow (Feb 22nd 2006). Free tea will be provided, and while the Press officer wasn't sure what type it would be (he was French), he was pretty sure there would be at least a choice of 2 sorts. Coffee was not mentioned by him or me. If you're in the area, it's worth going to have a look, and perhaps even join in the eating if you don't mind the odd stale biscuit.