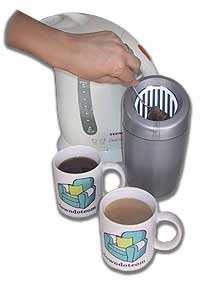 Lovely
As simple as its name, the Tea Bag Bin is a mini bin you keep next to the kettle to avoid dripping tea all over your kitchen surfaces and floors.
Dean explains
'I just asked Stuart to run through the process of making a cuppa, right through from finding a cup, boiling the water, giving it a stir and then, when he got to the bit where he removes the tea bag, he said '...and then I plonk it into the kitchen sink.' Stop right there, I said, why don't you use a tea bag bin instead?'
Typically at NiceCupOfTeaAndASitDown HQ all the tea bags end up either in the sink or piled up on the work top. At some point they get collected up and taken out to the compost bin. Well we took to our tea bag bin like ducks to water. Not only does it stop us having to clean the sink with bleach quite so often, but it collects up all our bags for composting.